I'm participating in World Games For Wildlife
We are walking the You Yangs Northern Range Circuit (12.3km) to raise much needed funds for our wild and wonderful wildlife friends!
We've decided that when it comes to our wonderful natural world, it is time to give elephants, rhinos, lions and the many other animals facing extinction some help. So we're participating in the World Games For Wildlife on Saturday 10 November 2018.

Every day we lose nearly 100 elephants to poaching and a rhino is killed every 8 hours for its horn. We can't let this happen! By fundraising for Nature Needs More we are sending a strong message to the traffickers and users of illegal and endangered wildlife, that we want this trade to STOP. We can't imagine a world without them, can you?

Please sponsor us to reach out fundraising target of $1,000. We'd also love for you to join us on the day! Together we can make a real difference, because Nature Needs More.

Thank you for being game!
Thank you to my Supporters
Anonymous
Sue Jankovic, Sharon A And Sharon K.
Dannielle Sneddon
Hazelana Brearley
Karen Vella
Mark Anderson
Tracey Watts
Karen Vella
Wayne Brearley
Leanne Palmer
Ivka Zeba
Aaron Castorina
Marie Thomson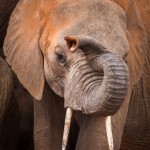 Stephen Powell
Doris Bondin
Nicole Vella
Cheryl Hopkins
Julie Gentle
Sarah Whiter