Skipping n Kpopping for World Games For Wildlife
Hi everyone,
My name is Tia and I'm 9 years old.
One day when I grow up I want to visit Africa to see the beautiful rhinos, elephants and giraffes playing in their natural habitat. My mum tells me they might not be around much longer if we don't help them. So I have decided to join the World Games For Wildlife to speak up for children my age and also the wildlife because we need to let adults know what we want and what we care about.
We care about our world, we care about nature and we care about animals and wildlife.
I love skipping and have been doing it since 5 years old when I was in prep. I also love kpop dancing and have been choreographing my own skipping routine.
I will come up with a new routine and will share it on facebook during November. Keep an eye out for date and time.
Please sponsor me to help me reach my target. I don't work yet so don't have a lot of money but will donate all the pocket money I have saved. Please give whatever you can. Even if it's just $1, if a lot of people give it can grow into a big, big number.

Thank you and giving you a big hug for your help.
Thank you to my Supporters
Jim Litis
Peter
Má Ba
Cynthia Rossack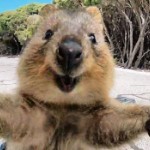 Greg Nicolson
Geoff Symonds
Sarah Lyons
Tia Trinh
Thi Ha Thuong Nguyen